Gwyl Metaboliaeth 2022
A Weekend Festival of Art, Music, Performance, Dance, Film, Poetry and other marvels.
Metaboliaeth Festival hosts Art Night Watch Party in Bangor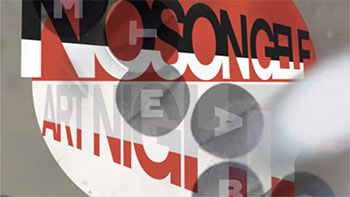 (Image Alt Text: Image shows the titles Art Night and Meta blurred together, in back, white and red.)
Come and join the Watch Party for Art Night on September 20th (5pm-10pm) at Bangor University. Art Night (Noson Gelf) is a ground-breaking brand-new monthly arts programme produced by Culture Colony. In partnership with AM, Art Night/Noson Gelf streams Iive online in Welsh and English bringing together emerging and established artists. Over the course of five hours of live streaming it will feature arts, music, film, culture and more from the creative community in Wales.
The Art Night/Noson Gelf broadcast will come live from Culture Colony's studio in Machynlleth, but there will also be a live conference to the Bangor Watch Party. Bangor staff Sarah Pogoda (School of Arts, Culture and Language) will also talk with Culture Colony about the recent Metaboliaeth Festival (19.-21.8.2022), organised by Lisa Hudson and Sarah Pogoda, as part of the AHRC funded research project "Re-Inventing the Live Event".
But for re-inventing the Live-Streaming-Event, our Watch Party in Bangor will also have its own live performances and creative activities. If you want to perform or show art work at the Watch party, please contact Sarah Pogoda (s.pogoda@bangor.ac.uk).
Party and streaming are free and all welcome! Drop in and out as you like, doors open 5-10pm (JP Hall, College Road, Bangor).
Bring your won food, bring to share or have some of the nibbles and refreshments provided.
Let's celebrate together the creativity in Wales.
19th – 21st August 2022, Bangor and surrounding area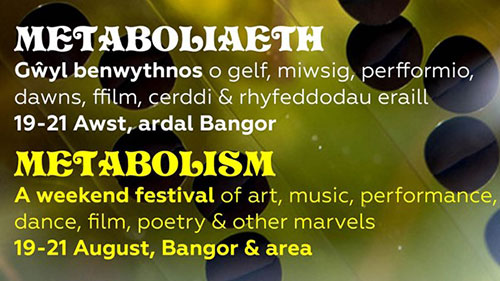 About Gwyl Metaboliaeth:
Biologically speaking, metabolism is the process by which your body converts what you eat and drink into energy. But what about a Metabolism of the mind, of imagination, of language and of art?
Gwyl Metaboliaeth involved more than thirty artists and performers, created fifteen live events or situations over the space of three days, in and around the City of Bangor.
Lisa Hudson reports that artists have been exploring new ways of engaging, of challenging and questioning the roles of performer, audience, participant, and place.
Gwyl Metaboliaeth was the second festival created as part of the AHRC research project, 'Reinventing the Live Event' led by Dr Sarah Pogoda from the School of Arts, Culture and Language.
Gwyl Metamorffosis 2021 questioned the effect of the pandemic on live art practice, looking at creative solutions to the problems that artist performers faced when relating to an audience under Covid-19 restrictions. But now that all restrictions have been lifted did artists go back to pre-pandemic work processes and events?
Sarah is wondering: "Our Metamorffosis Festival in 2021 explored processes, skills, gateways for becoming situation with, by, in and within the more than human ... did we maintain them for a post-pandemic state of economic and ecological emergency? Have we gone back to how we were before or has the composition of our gatherings changed to a composite, a compost of more than just human beings?"
Gwyl Metaboliaeth therefore asked how do physical and virtual states of being merge in a post-pandemic world? Could we maintain the windows into alternative worlds that the Metamarffosis Festival opened?
Programme
Info with link

Time

Event

Location

Friday 19.9.2022

2pm

Penrhyn Avenue, Maes G to Bangor Town Centre

2pm – 6pm

The Old Post Office, Bangor

8pm

Y Caban, Pontio (outside on Lefel 2)

Saturday 20.8.2022

10.30am

Bangor Clock Tower

11.45 am

Aldi Caernarfon Road, Bangor

2.30 pm

Bwyd Da café, Bangor

4.00 pm

The Old Good Yard, Bangor

8pm

Hendre, Pentraeth

5pm-10pm

Bangor University

Sunday 21.8.22

11am

Gwyliodd y Gwylwyr: The watchers watchedSound, Music and dance performance

Eric Sunderland Theatre, Prif Adeilad y Celfyddydau / Main Arts Building, Bangor

12.30 pm

Eric Sunderland Theatre,Prif Adeilad y Celfyddydau/ Main Arts Building, Bangor

3.30pm

Treborth Botanic Gardens
The cascade

5 pm

Bangor Stryd Mawr / High Street

6pm

Awen 33

8 pm

The Aukland Arms
Menai Bridge.

ALL WEEKEND

Films
Dust and Ashes
A Journey Through Consciousness

Pontio, Bangor